The Daggetts
---
Jon & Connie Daggett live in Lynchburg, Virginia. We have two beautiful daughters, Cindy (age 16) and Sarah (age 14). To learn more about any of our family, you can click on one of us in the picture or on our names in this paragraph.

The entire family are active members of the Thomas Road Baptist Church. The whole family is involved in various aspects of the ministry.

Jon is a freelance television technician/producer and also owns and operates Castle Studios Productions which does video/audio production. Jon travels worldwide doing television work and has been to Israel, Austria, South Africa, Australia, Germany and the Netherlands doing production work.



If you like Pepsi, make sure to check out Jon's Pepsi page!

Jon is a member of the Society of Broadcast Engineers (SBE) Chapter 78, which covers the Blue Ridge area of Virginia. He also maintains their web page.

For many years the Daggett's ran their Christmas Light show at their home but we have not able to do it in recent years because of a busy work schedule during that time. Jon used his MidiLite Computer Lighting Effects System to control about 8,000 lights which magically danced to the music with pre-programmed, synchronized effects. Each of the 16 bushes are covered with twinkle lights and the roof, porch & windows are all outlined. Candles in the windows, a lighted nativity scene and a reindeer round out the display.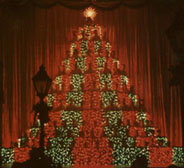 Jon also does the lighting effects for the Living Christmas Tree at Thomas Road Baptist Church which is a large Christmas production done each year. Over 27,000 people attended the tree this year during the 13 performances. The tree itself is a 30 ft. tall structure which holds about 100 choir members. There are 108,000 twinkle lights on the tree and are controlled by a 726 channel computer-controlled dimmer system which Jon designed and he and his wife Connie programmed. The MidiLite system is now available to other churches organizations.

Jon & Connie are the owners of Castle Studios Productions, a video & audio production company.
---
Send Comments.

Back to daggett.tv Main Page