Jon Daggett's
Pepsi Page
Jon Daggett is a member of the
Want to join the ring? Get info Visit other sites in the ring now!
[Prev][ SkipIt ][ Next5 ][ Next ][List Sites] [ChatRoom]

Check out these other Pepsi sites:
If you would like to have a link added or have found a bad link, please e-mail me.
I checked these links on 1/26/98 and pulled out a few invalid addresses. If your page has changed and has been deleted from this list, please e-mail me with the new URL and I'll be happy to add it back in.

PEPSI WORLD - Pepsi's Official Home Page


FoxInSocks Pepsi Page


JL's World of Pepsi


Pepsi Queen's Pepsi Home Page


Pepsi Australia


Pepsi UK (United Kingdom)


Pepsi Russia

TK's Pepsi Page


Pepsi Painter

---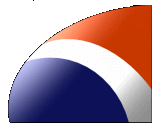 If you are looking for Pepsi cans, bottles or other
collectibles, I may have duplicates.
If you have something that you think that
I may be interested in, please contact me also.


e-mail: jdaggett@castlestudios.com
---


Pepsi Logos (by year introduced):

1898:



1905:


1906:


1940:



1950:



1962:


1973:


1991:

---
Return to Jon Daggett's Home Page